Surabaya, Monday 14 October 2019 – The production of the second NAVY's BRS (W000302) ship enters the phase of keel laying or the ship's full installation. Keel Laying was held on Monday, October 14, 2019 at the Grand Assembly of the commercial division of PT PAL Indonesia (Persero). The event was attended by KSAL Logistics assistant Laksamana Muda Moelyanto accompanied by President Director of PT PAL Indonesia (Persero) Budiman Saleh, witnessed by TNI officials and the management of PT PAL Indonesia (Persero).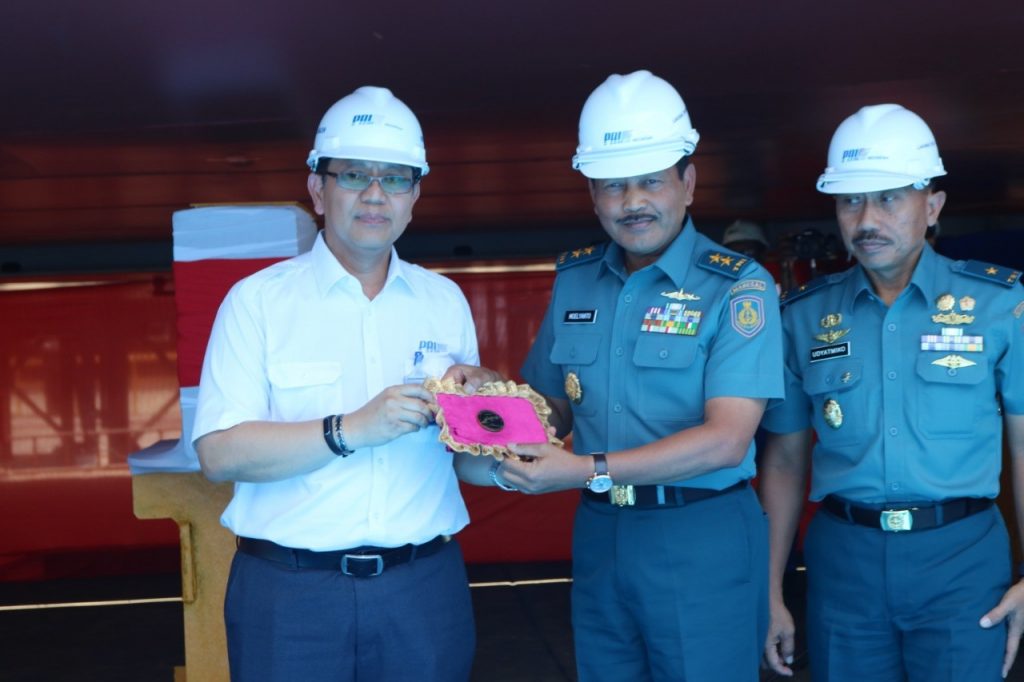 Figure 1. The submission of a symbolic coin in the implementation of Keel Laying by the director of PT PAL Indonesia (Persero) to the KSAL Logistics assistant
This stage of keel laying is important because the age of the vessel will be counted from the first time of installation. The NAVY's second BRS vessel is 124 meters long, 21.8 meters wide. The vessel was able to accommodate troops, crew and patients as much as 651 people. The ship weighs 7300 tons and can go up with a maximum speed of 18 knots and 30 days of endurance, the vessel is able to accommodate 2 units of helicopters in the deck and 2 ambulance boat units. Until the phase of keel laying the second BRS ship has reached 27% of the overall stages of development and timely.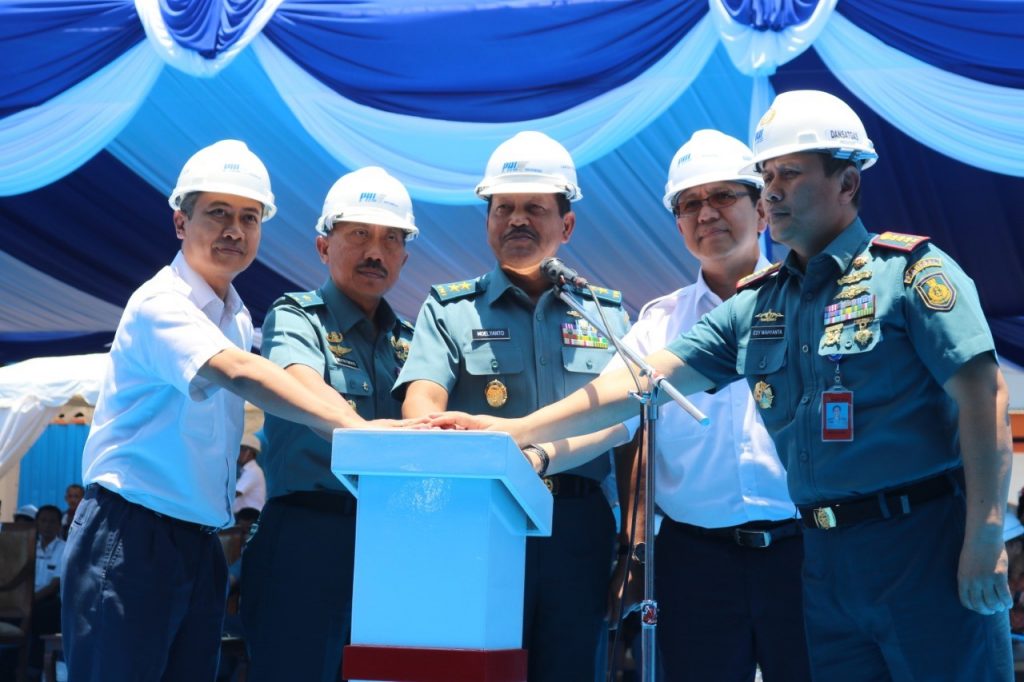 Picture 2. Button presses on the Keel laying ceremony
The development process was carried out with 6 starting points in 6 parallel zones with a modular approach to the system to shorten ship building time. In the development of PT PAL Indonesia (Persero) using the main facilities of Graving Dock Semarang in the commercial ship division, will also optimize the existing capacity such as the construction of the top blocks conducted in the warship division, some Ship supplies such as turning tables were done in the General engineering Division.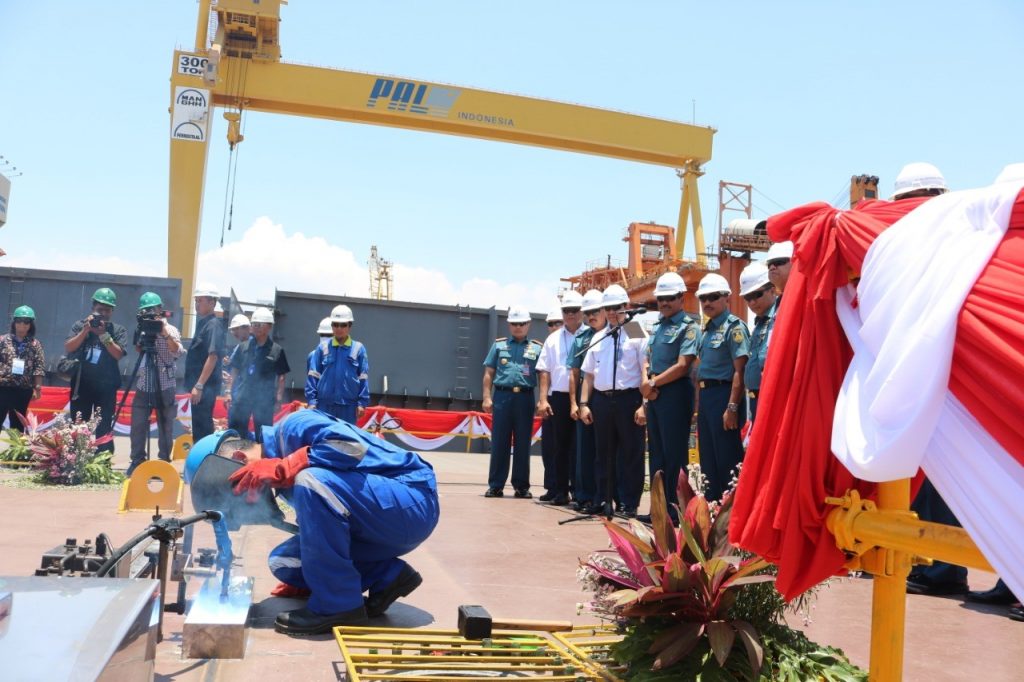 Fig. 3. Welding connection block ship
The function of BRS vessel is very fitting with Indonesian maritime characteristics and insight. Indonesia as an archipelago as a country located within the ring of Fire region has a natural disaster vulnerability such as volcanic eruptions, earthquakes that can be followed by secondary disasters such as tsunami and others. BRS vessels also have a function of community service, can be moved when the community needs, such as the events of Wamena in Papua. With this situation, BRS vessels are mobile and can be driven at any time to the affected areas of natural disasters or humanitarian disasters that need to carry out disaster emergency response activities. BRS ships are equipped with various medical functions to medical acts. The medical facility owned equivalent to a hospital, until the nickname as a hospital float deserves to be given on the BRS ship.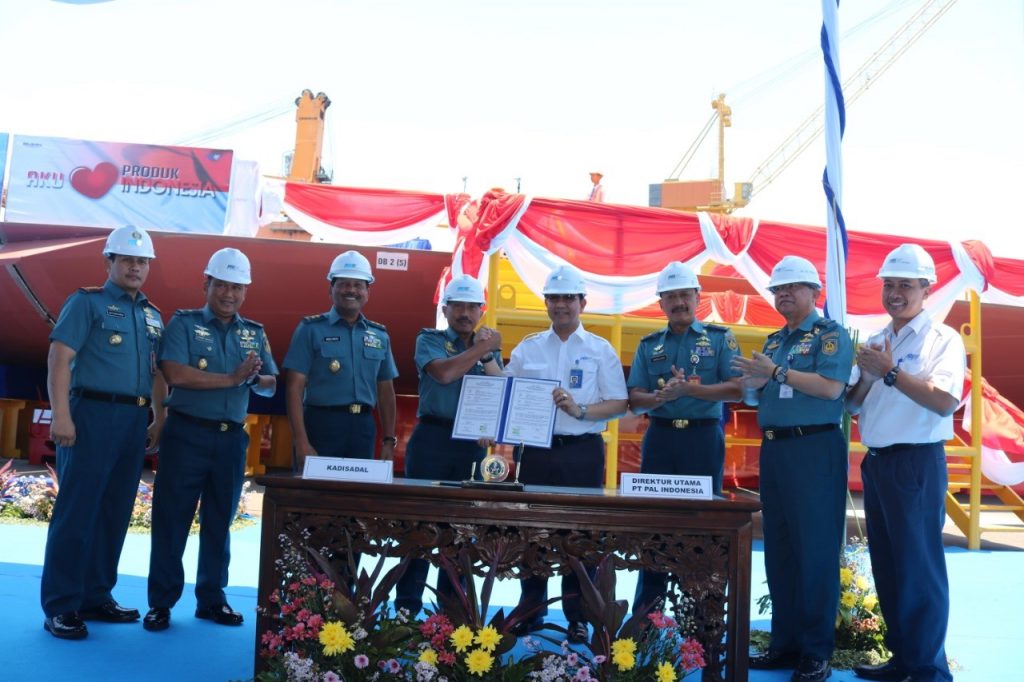 Fig. 4. Symbolically keystrokes
Prepared by: Department of Public Relations of PT PAL Indonesia (Persero)